Little Muheji School Kindergarten Section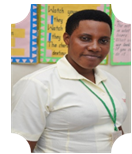 Dear All,
I welcome you to LMS Nursery section,
This is yet another golden opportunity to share with you.I have found teaching in nursery very interesting. Pupils are very innocent all they need is to be loved. On arrival at school, they run to meet you. If you are not careful you can easily fall down. They all want a hug.
They have stories to tell you. They make empty promises referring to their parents for example, Daddy is going to buy you a new car, and Mum said she loves you so much. With great joy, you thank them and give them hugs.
Nursery section has pupils ranging from 3-6 year, children graduate at the end of every top class, after a careful preparation. I am extremely very confident and happy that our pupils joining primary one have continued to compete favorable in all national and international schools.
We also provide day care services for children between 3 and 5 years of age, lunch is provided to them and later they are engaged in both indoor and outdoor activities.
To our Dear Parents/Guardians, we thank you for loving us and trusting us with your little ones, all you need is: Love, Care, Protection, and good feeding, in doing so they will become responsible citizen's in future---Create time to play and pray with them this adds into their memories
May God Bless you as you take care of them.
Alinaitwe Provia
Head of Nursery Section